Who is Ron Perry REALLY?
Sound Engineer & Video Producer Ron Perry
Ron Perry began his career as a musician in Detroit, Michigan in the early 1980s, playing and recording in several bands and working with legendary Detroit musicians including Rob Tyner of The MC5 (Kick Out The Jams), Cub Koda of Brownsville Station (Smoking In The Boys Room), Jackson Spires of Blackfoot (Train Train), and John Galvin of Molly Hatchet (Flirting With Disaster). Along the way, he found himself soaking up everything he could learn from the sound engineers he was working with, and soon became proficient at handling live sound and engineering recordings for his own band and others.
In 1987, Ron re-located to Jacksonville Florida, to join the band "China Sky", which subsequently signed a deal with CBS records. During the recording of China Sky's debut record, Ron worked with legendary producer Karl Richardson (Bee Gees, Eric Clapton, Barbra Striesand), and spent nearly a year in the studio 10 to 12 hours a day, recording and learning. In 1988, "China Sky" was released to rave reviews and the single "The Glory" was featured during NBC's telecast of the 1988 Olympic Games.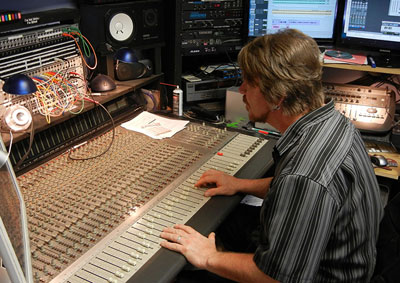 In 1991, after the demise of China Sky, Ron invested everything he had in recording equipment and opened his own 24 track recording studio in Jacksonville, "Alan Audio", where he recorded prominent local musicians including members of Molly Hatchet, Lynryd Skynyrd, 38 Special, and Grinderswitch, as well as an epic two week session in 1994 with rock & roll pioneer, Ike Turner. In between sessions with other musicians, Ron began to take jobs writing and recording jingles for local businesses, and became the local "go to" producer for radio commercials and custom music.
It was in the early 2000s when he began to take an interest in videography, after several jingle clients had inquired about television spots. Investing in a camera and video equipment, Ron became obsessed with the art form, and soon met up with Ed Roy, a former CBS cameraman, producer, and independent videographer, and began working part time for his company "Ed Roy Media", where under Roy's tutelage, he learned everything he could about lighting, camerawork, and editing, all while still working as a musician and audio engineer.
In 2008, Ron combined his audio recording business and his love of videography to form a new company, "American Media Sound and Video Production". Since the genesis of AMS&V, Ron has written and recorded dozens and dozens of jingles, TV spots, corporate videos, and web ads, for businesses all over the country, shot a documentary on football player Tim Tebow for Screen Media Films, and worked with well-known talent including "Extreme Makeover: Home Edition" star Ty Pennington, seven time Olympic medalist Shannon Miller, Grand Funk Railroad singer/guitarist Mark Farner, and record producer Don Was.
In 2017, Ron also began a partnership with four other audio/video professionals back in his hometown of Detroit, to form "Detroit Sound and Video", which boasts a full-service digital and analog recording studio, and a video soundstage with a green screen cyclorama.
Ron Perry brings over 30 years professional experience, and an intense love of videography and the audio/visual arts to your project. Give AMS&V a call, and let him create a masterpiece for you!